Please help us bring live music and theatre to children who have little to no access to the arts, and bring a smile to young people living difficult lives!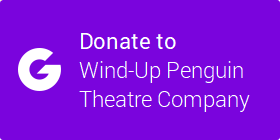 The Wind-Up Penguin is a project led by ourselves only. Our overseas projects are funded by the team members' money and charitable donations. As students and young graduates of music and theatre colleges, funding overseas projects ourselves sometimes isn't easy. Any help you could give us and the children we bring our shows to would be incredibly appreciated.
"While our lives are about art, help us give art to those children's lives" – Jacob Coleman (Team Brazil 2015)
This summer, we are organising three projects: in India, Jordan and Lebanon, and Greece. We plan to reach over 6000 underprivileged children in two months. Any penny you can spare towards any of these projects would be immensely appreciated.
To donate, please head towards our Justgiving page: http://www.justgiving.com/wind-uppenguin
If you wish to discuss a more regular donation or a larger funding plan, please contact Elisabeth at elisabeth@winduppenguin.org.uk
And here's a little video of one of our previous fundraising campaigns…